Wisdom Tooth Removal
In some cases, wisdom teeth erupt normally and cause no issues. But more often, they can result in pain, infection, and misalignment.
Wisdom tooth removal is a safe, simple, and conservative procedure that can protect your or your child's oral health.
The doctors at ​Bird & Johnson, Oral Surgery in Cocoa, FL, routinely perform this procedure...
What Are
the Wisdom Teeth?
Also known as the third molars, these are the last four of 32 teeth to surface in your mouth. They usually appear between the ages of 17 and 25. Patients should see a dentist or oral maxillofacial surgeon in their early teens to find out if they should have these teeth extracted to avoid future dental complications.
Why Should My Wisdom Teeth Be Removed?
Not all patients need to have their third molars removed, but many do. Patients may need to have a wisdom tooth removed if it is:
Erupting at an Angle
Because our mouths are often too small to accommodate another set of molars, the wisdom teeth can grow in at an angle. This can push the surrounding teeth out of alignment and cause the third molars to become impacted.
Impacted
When the third molars don't have enough room to grow, they may not emerge from the gum line. This can result in a serious infection and discomfort.
Increasing the Risk of Other Oral Health Problems
Even if the wisdom teeth are able to fully erupt, they may be more vulnerable to tooth decay, which also puts the surrounding teeth at a higher risk for infection and other complications.
"Excellent Dr. & staff! I had a very complex wisdom tooth extraction due to my facial nerve being wrapped around one of them. Dr. Bird performed my procedure without any complications & I had a fast recovery! He took his time with me. Thank you Dr. Bird!"

Adriana Villa - 5-Star Review on Google
There are three primary degrees of impaction based on the depth of the teeth within your jaw:
Soft Tissue Impaction
Soft tissue impaction refers to cases in which the crown of the tooth penetrates the jawbone, but the gums are still covering part of the crown.
Partial Bony Impaction
Partial bony impaction occurs when the tooth has partially surfaced, but part of the crown remains below the gum line and the surrounding bone.
Complete Bony Impaction
The tooth may fail to surface from the jaw, remaining fully encased in bone. This may indicate the tooth is abnormally positioned, which requires a more complex extraction procedure.
When the third molars are impacted, food can become trapped below the gum line. In addition, the area is difficult to keep clean. This can increase the risk of a dental infection, along with pain, swelling, and discomfort. If you experience any of these symptoms, call your dentist or oral surgeon immediately.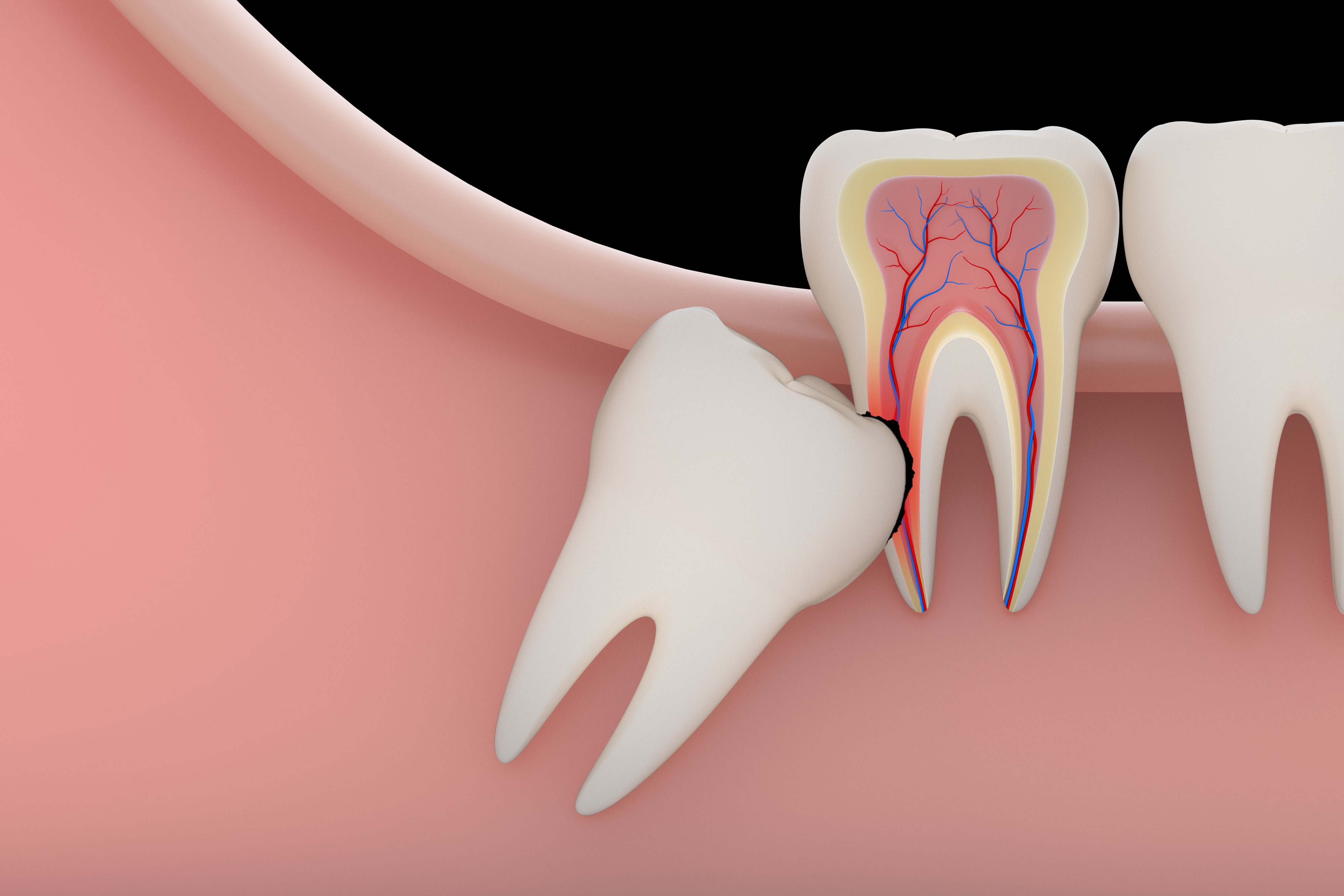 How Do I Know if My Third Molars Should Be Removed?
Our oral surgeons will take dental x-rays to evaluate your third molars and the surrounding teeth. These will help us determine if your wisdom teeth are currently causing problems or if they have the potential to cause problems in the future. An evaluation of the wisdom teeth is usually recommended in during a patient's teenage years, typically by the age of 16.
The Procedure
When performing an oral surgery procedure such as tooth extraction, we use a combination of local anesthesia and IV sedation. This approach keeps the treatment area numb, and induces a deep sense of relaxation.
The next step of the wisdom teeth removal process is to create an incision in the gum tissue. The wisdom tooth can then be removed in one piece or multiple, smaller pieces. Dissolvable stitches are used to close the incision.
After treatment, patients should follow our post-surgical instructions to prevent dry socket and other complications.